Welcome/Croeso
Achieve our Best, Celebrate Success,
Cyflawni ein Gorau, Dathlu Llwyddiant
Created on 2003-02-04 10:24:27 by install
Updated on 2012-03-18 17:15:38 by webmaster
Newsflash
- HARVEST!
Please send in donations of tins and dried foods for our harvest collections. The Foundation Phase assembly will take place at 9.15am, Tuesday 22nd October.
4G will be doing their harvest assembly on Friday 25th October 9.15am.
PARTY TIME! We would also be grateful for any donations of food for our Eid and Divali party on Friday 25th October!!
Children can bring their party clothes to school.


Eco Flash
Remember to switch off the classroom lights at breaktime, lunchtime and hometime!
Awards
Look who's visited us!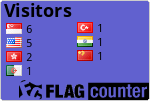 Just look at who's visited our site
Welsh Phrase of the Week
Bore Da - Good Morning
Prynhawn Da - Good Afternoon.
Diolch - Thank you
Our Orchard!

We have been successful in our bid to be one of the eight schools in Wales to have our own apple orchard.

Our trees have now arrived!
We have got 10 different varieties of apple trees that are grown in Wales!

Autumn Term 2013
We have picked our first crop of apples!They were yummy!!

Come and take a look!